Call us today (403) 295-3028
Calgary Hydronic Heating System & Heating Contractors
Calgary Hydronic Heating, Installation & Maintenance
Looking for expert heating companies & Calgary heating contractors for hydronic heating installation, services or heating repair? Then contact the Calgary heating contractors at Lone Star Plumbing and Heating.
Our hydronic heating experts & Calgary heating contractors are experienced and will be able to handle any hydronic heating service you may need. If you have been looking at making the change to a hydronic system for your home or business, our Calgary hydronic heating contractors can help you. Changing your heating system to a hydronic heating system will save you money and reduce your impact on the environment. You will also experience a warmer home as the heat provided by a hydronic heating system is distributed more evenly. Our hydronic heating installation experts & Calgary heating contractors, have years of experience installing hydronic heating systems in all types of homes and businesses. In addition, we also have extensive experience conducting many different kinds of heating repairs to residents all over Calgary. As a result our heating company can install & repair your hydronic heating system within short time frame & at a fair price.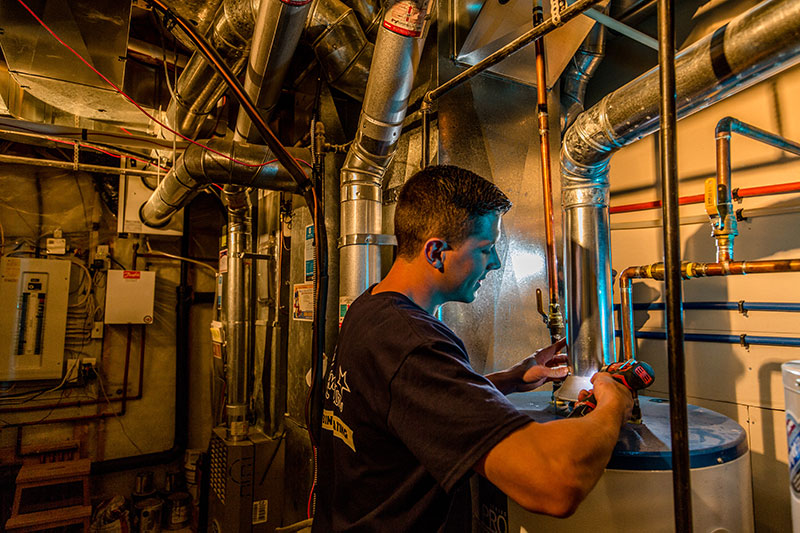 At Lone Star Plumbing and Heating our Calgary heating contractors are not just experts at installing hydronic heating systems we are also experienced in heating repair and maintenance. If you have run into a problem with your hydronic heating system and need it serviced or need heating repairs we are ready to help. Our knowledge of hydronic heating systems allows us to identify problems quickly and get your system back up and running in no time. Our experience also allows us to identify the most efficient way to fix your system saving you time and money. These are some of the important factors that make Lonestar Plumbing one of the most trusted heating companies in Calgary!
Whether you're looking for heating repair, boiler servicing, troubleshooting, installations, or retrofits our Calgary heating contractors will provide you with the plumbing and heating services that you need.
Our hydronic heating services:
Retrofits
Combustion Analysis
Glycol Testing
Troubleshooting
Cross-connection control
Heating repair of all sizes
We know heating repair & heating system emergencies can happen anytime, so our professional heating experts & heating contractors will be available for you! Our heating company's team is filled with licensed experts, which is what makes us one of the most qualified & reliable heating companies in Calgary. We can confidently assure you that all your heating system needs will be handled properly. You can depend on the experience and knowledge of the Calgary hydronic heating experts at Lone Star Plumbing and Heating
Call (403) 295-3028 to book an appointment with one of the most qualified heating companies in Calgary today!