Call us today (403) 295-3028
Family Owned Calgary Plumbing Company
About Lone Star Plumbing & Heating in Calgary
Lone Star Plumbing and Heating has been providing Calgary with plumbing, gas fitting and heating services since 1993. Peter Voelk founded Lone Star Plumbing and Heating with the desire to provide Calgarians with exceptional plumbing and heating services, that customers knew would be done right and priced fairly.
Lone Star offers many plumbing and heating services including full service plumbing, gas fitting, hydronic heating and water conditioning. Anything in your home or business water or gas related you need fixed or installed Lone Star can help.
 Why Choose Lone Star?
With Lone Star plumbing and heating you are going to get high quality trades people who follow our belief of providing experience, honesty and integrity. When we tell a customer what we are going to do for them we do exactly that. We believe the customer deserves an honest experience to put them at ease during our time at their home or business. We believe in delivering high quality products our customers can trust, this is why we make it our priority to be informed on the latest products available and the newest techniques.
Lone Star plumbing and heating stands out among the rest of the plumbing and heating companies in Calgary by ensuring quality. We will not accept a job that does not meet our or our customer's standards. At Lone Star we take pride in our work and teach our team members to provide quality workmanship, honesty and to treat people the way they would want to be treated.
If you are looking for plumbing or heating services in the Calgary area you can call Lone Star confidently and  know that the job will be done right. When choosing Lone Star you can be assured to receive a fair price, honesty and high quality services. Give us a call today at (403) 295-3028 and let Lone Star handle your plumbing and heating needs.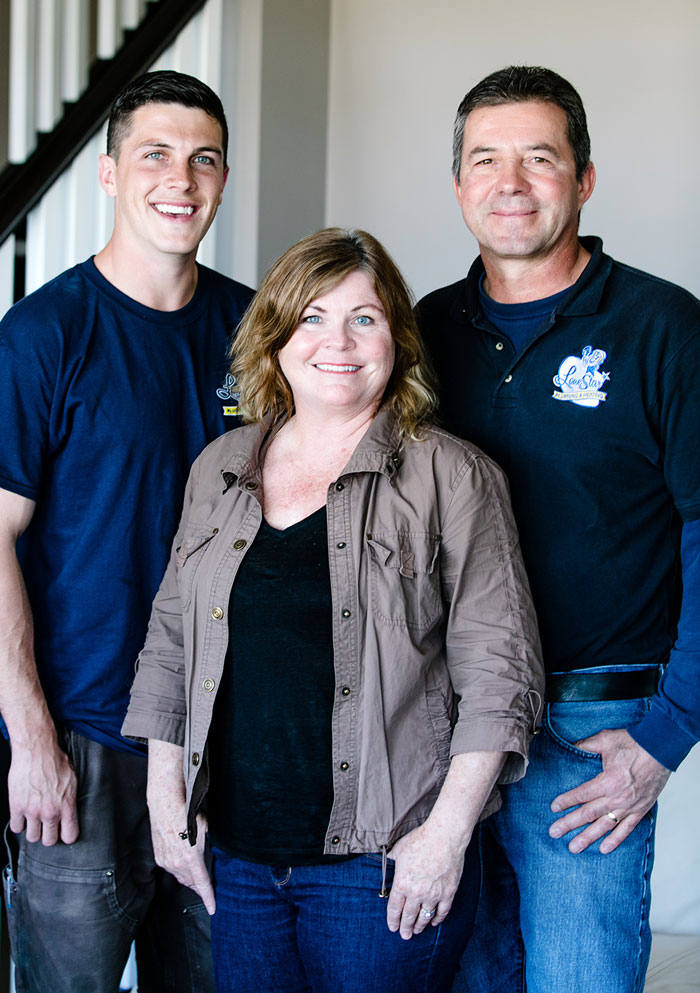 Owners Cheryl & Peter Voelk, with their son, Ryan.